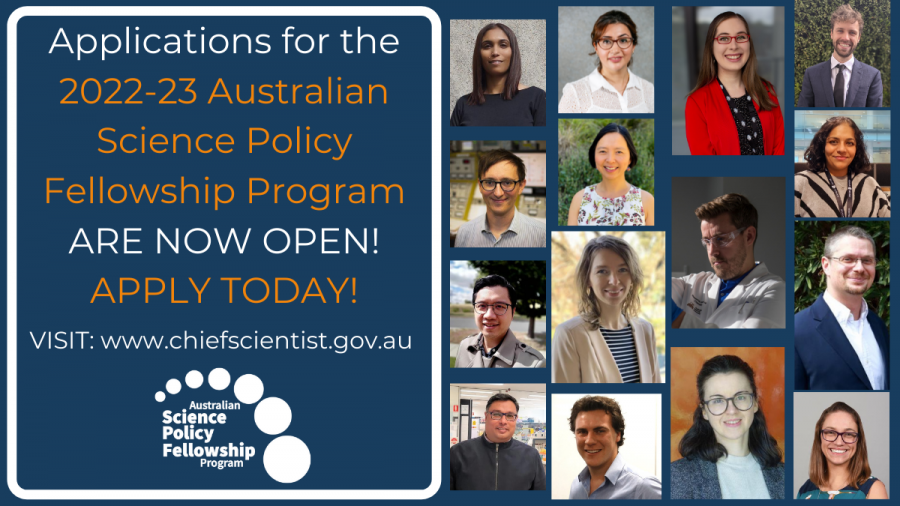 The Australian Science Policy Fellowship Program aims to grow the diversity of expertise of the Australian Public Service by providing a pathway for experienced scientists to become skilled policy practitioners.
The program gives early- and mid-career scientists the opportunity to work as policy officers in an Australian Government department for 12 months. The Fellows bring a highly valued skillset, including data and analytical skills, and fresh perspectives on policy work so that they can be conduits for bringing scientific expertise into government functions.
Fellows are supported by the Office of the Chief Scientist, have access to mentors and receive on the job training in, and exposure to a range of government functions. The fellowship program provides scientists with a pathway into the Australian Public Service (APS) with the vast majority of the 2021-22 fellowship cohort subsequently moving into positions within the APS since completing the fellowship program.
To be eligible for the Science Policy Fellowship Program you must:
be an Australian citizen aged 18 years or over at the time of application
hold a PhD in one of the following disciplines:

medical and health sciences
biological, physical or earth sciences
behavioural sciences
computational sciences and mathematics
engineering disciplines (applicants with a masters in engineering and three years of professional engineering experience also qualify)

be no more than 15 years post PhD completion (adjusted for academic career interruptions due to family responsibilities as a primary care giver and / or due to working within an industry relevant to your research area), and
be prepared to relocate to Canberra if you currently live interstate.
Applications are now open for the 2022-23 program and close 21 March 2022.
For more information and to apply to the program, visit the Australian Chief Scientist website.
Article last updated on 22 April 2022