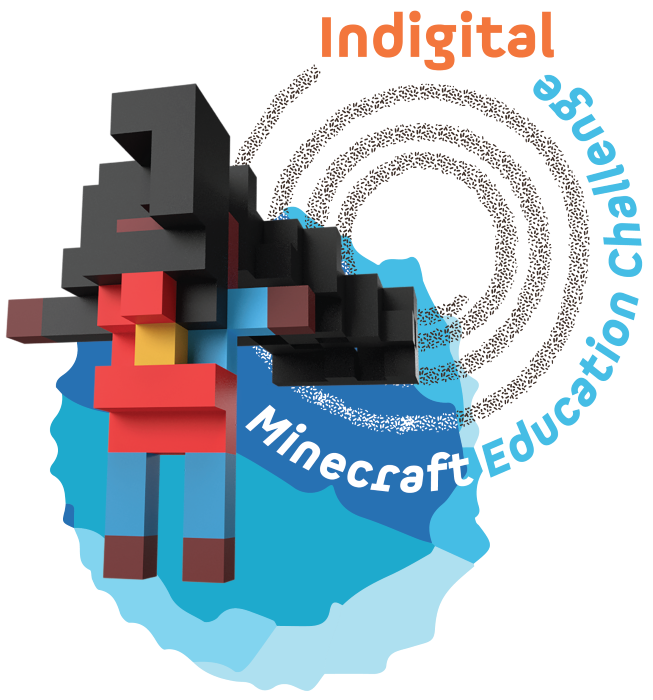 The 2021 challenge invited students to explore the 2021 National NAIDOC theme - Heal Country using Minecraft: Education Edition. Utilising the challenge resource library and supported by community Elders and teachers, students were asked to respond to the challenge question:
"How can we 'Heal Country: Side by Side,' and build more sustainable communities by embracing First Nations' cultural knowledge and understanding of Country?"
Students worked together to build a present-day representation of their local Country, alongside a second representation of the same area in the future, which included the changes that might occur if traditional knowledge was used to heal and care for the land.
Over 200 teachers and 6,500 students across 160 Australian schools registered in the program and Territory student excelled in the challenge, winning one category and placing in the other two....
And the winners for the 2021 Indigital Minecraft Education Challenge are
Winner: Best Narrative
Years 3 and 4 from Clyde Fenton Primary School, Katherine NT
Jawoyn Country 
Winner: Best Minecraft World (primary school)
Bribie Island State School, Queensland
With Clyde Fenton Primary School, Katherine NT announced as one of three finalists
Winner: Best Minecraft World (secondary school)
Salisbury Norther Primary School (year 7), South Australia
With Yirrkala School, East Arnhem NT announced as one of three finalists
Videos of the winning submissions can be viewed on the Indigital Minecraft Education Challenge website.
The Indigital Minecraft Education Challenge is an annual competition open to primary and secondary schools across Australia.
The story behind the challenge logo
The Indigital Minecraft Education Challenge logo was designed by Laynhapuy Homelands and Yirrkala Bilingual School student, Wilirriya Burarrwanga. Wilirriya is a Gumatj man and lives in Garrthalala in North East Arnhem Land.
Willirriya received second place in last year's challenge for his interpretation of Djambawal (Thunderman). Following his win Wilirriya was given the opportunity to design this year's logo. Wilirriya used Paint 3D to create Thunderman who is holding a lightning spear.
"He's standing and he's holding thunder… big! He's big and tall. He makes water calm. Turns it good for hunting."
Download the Indigital Storytelling App from Google Play or Apple App store and follow the instructions to view Thunderman in Augmented Reality.
Article last updated on 15 November 2021