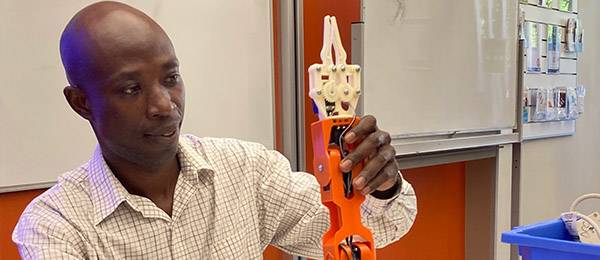 School teachers are now able to borrow robotic arms to take back to their classrooms, thanks to a project from Charles Darwin University, Inspired NT and the Northern Territory Government. The robotic arms can be programmed to do a range of activities from serving a coffee to painting a canvas.
The aim of the project is to inspire a new generation of Territorians on STEM related fields and increase the awareness among teachers and students of the role of science, technology and innovation in everyday life and our future.
"The idea is to show students who are about to determine their career that robotics is one option. It will be good for them to know how the world is changing and that robotics will play an important role in their lives," Lecturer-Engineering Mathematics, College of Engineering, IT and Environment Dr David Ompong said.
A professional development session for teachers was held at Casuarina Library on 19 June, to show teachers how to build, program, and operate a robotic arm, so they can share that knowledge with their students. It was the first-time Arduino Tinkerkit Braccio robots were used in a workshop for teachers.
The workshop was developed by Dr Ompong with the help of three PhD students from the College of Engineering, IT and Environment - Mr Kiran Sreedhar Ram, Mr Daniel Dodzi Yao Setsoafia, and Ms Eva Ignatious.
"It was not easy getting a robot arm that was suitable for the classroom, most of the robots that I found were for industrial use, which are very expensive and not suitable for the classroom; so, we were happy to find this one - the 'Braccio Robotic Arm' that we could use," he said.
Up to ten robotic arms are available for teachers to borrow from Inspired NT.