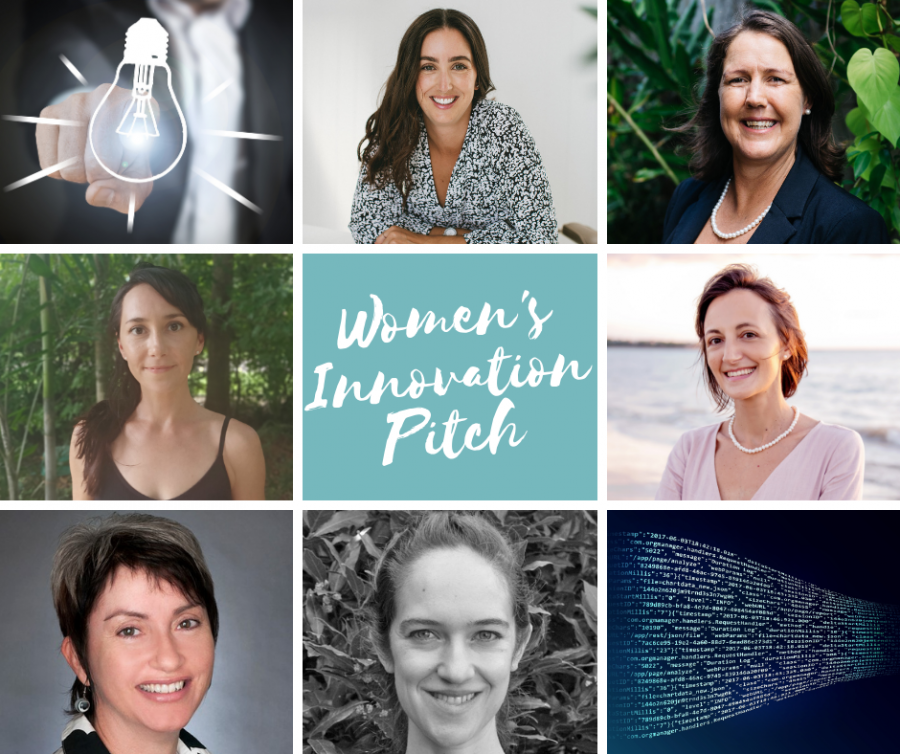 Congratulations and good luck to all 6 finalists pitching their event ideas this Friday 9 April.
Applications for the Women's Innovation Pitch closed on 26 March and 6 finalists have been shortlisted from 25 applications to pitch their innovative ideas to a panel of 3 judges.
The 6 finalists represent a diverse range of fields including healthcare, education, manufacturing, eco-sustainability and automation.
The shortlisted finalists to pitch at the event are:
Zoe Collins from Big Sky Psychology with virtual reality therapy programs in remote clinics and schools to provide accessible mental health services to young people and adults in remote communities.
Simona Paganetto from I'm Plastic Free with the next phase of I'm Plastic Free, an online marketplace that connects eco-conscious consumers with ethical and sustainable products from Australian businesses.
Harriett Mellor from Mellor Portfolios with an app and web portal for property owners and tenants to manage and maintain properties directly with each other, removing the need for property managers.
Rana Everett from Everett Consulting NT with a concept to manufacture critical Roll Over Protective Systems (ROPS) in the Territory for the mining and construction industries.
Rachel Murphy from A Place for Plastic with 'Plastic Works', a program for people to learn about recycling, track community progress on waste reduction, and create their own products from plastic waste.
Associate Professor Suzanne Belton from Anatomical Education with 'Anatomical Models Get Cliterate!' a concept to increase health literacy and sex positive communications through anatomical models and training.
Three winners will be selected by judges who share expertise in business and innovation across industry and government and include:
Naomi Anstess, Managing Director of Saltblack and Chair of the Women's Innovation Network NT
Kate Loh, Growth Facilitator, Darwin Innovation Hub
Julie Jenkins, Executive Director Business Development, Department of Industry, Tourism and Trade.
Pitches starts at 10:30am in the above order, the event is a first of its kind all-women innovation pitch competition held simultaneously across 2 Territory locations and live-streamed virtually.
The event will run in-person in Darwin and Alice Springs at:
Darwin Innovation Hub – Level 1 Paspalis Centrepoint, 48–50 Smith Street Mall, Darwin City
Central Australia Development Office – 55 Todd Mall, Alice Springs
If you registered for the livestream and are in either Darwin or Alice Springs, you're very welcome to join us in-person. Doors open at 10am for a 10.15am start. There will be a networking opportunity with light refreshments from 12pm to 1pm. If you can't make it, watch the livestream from 10am.
The Women's Innovation Pitch is a Northern Territory Government initiative designed to encourage more women-led businesses develop and commercialise innovation in the Territory and strengthen representation of women in STEM (science, technology, engineering and maths) industries.
The three winners will each receive a placement in the Business Innovation Program (BIP), which includes a $30,000 grant to help develop and commercialise their innovative business concept.
The winners will also receive one-on-one professional advisory services from the Northern Territory Government's Innovator in Residence service.
Since the program's inception in October 2019, BIP has supported 54 Territorian entrepreneurs and businesses to commercialise their ideas, of which 35% have been women-led businesses.