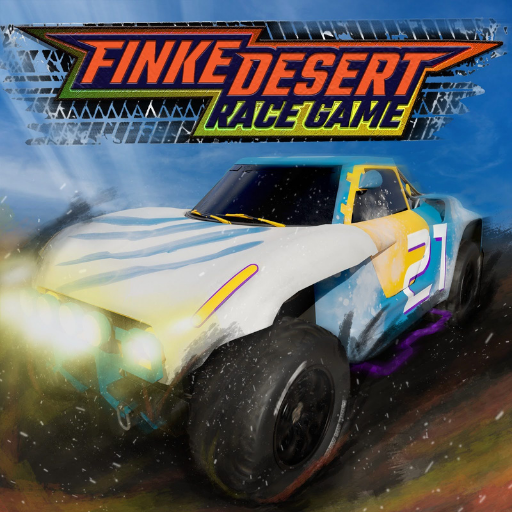 Missed out on the iconic Finke Desert Race in the Red Centre? 
Well, you don't have to wait another year to enjoy the thrills and spills of this annual off-road motorsport event. In fact, you don't even have to leave your lounge room.
Simply download a Finke Desert Race video game on your mobile and you'll be in the driver's seat bouncing over red dirt, avoiding camels and kangaroos, and showing off racing skills in no time.
"It's in the early stages but one of the biggest races in the world has moved online for everyone to experience," said Darwin-based aspiring entrepreneur Christopher Kimani.
A recipient of the Northern Territory Government-run Business Innovation Program (BIP) grant, Christopher, who joined forces with Larrikin Interactive on the fun, innovative project, said people can download the mobile free-to-play game now on Android and iOS.
Inspired by his two sons, who play a lot of racing video games, Christopher thought it would be cool to have gamers try out the Finke Desert circuit in Alice Springs.
"There's a video game based on the Dakar Rally and a game called Forza Horizon which is set in a fictionalised Mexico, but there's nothing based in Australia," said Christopher, Director of BENSEB.
"The Finke Desert race is one of the biggest annual sporting events in the Territory and recognised as one of the most difficult courses in one of the most remote places in the world. So I looked into creating a video game."
Not having the programming skills he reached out to Darwin-born and bred innovator and founder of video games publisher Larrikin Interactive, Dylan Bennett.
"The game is super exciting," said Dylan. "Given that this is the first NT-based video game we wanted something that is iconic to the Territory.
"The race itself has so many features that lend well to a video game, with buggies, bikes and 4WDs all competing against the world's best with the desert as a backdrop."
The video game sector is the largest and fastest growing creative industry in the world.
"Videogames are bigger than films and music combined, and it is growing," said Dylan. Two out of 3 Australians play videogames and in 2021, more people chose videogames over watching TV as their preferred means of digital entertainment.
Dylan said gamers will be kept central to the design and development of the Finke Desert Race video game through rapid prototypes.
"There is still a lot of work to be done but gaining feedback and working with customers after each iteration is a really important and fun part of the whole process."
And the verdict from Christopher's 13-year-old son? "It was a thumbs up," said Christopher. "It is a basic game but he played for a good hour, and with time we can only race ahead."
Article last updated on 7 October 2022