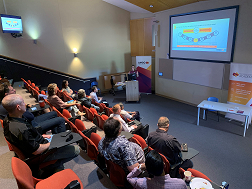 Charmaine Barrett, Northern Territory (NT) Director of the Advanced Manufacturing Growth Centre (AMGC), recently visited Alice Springs to meet with members of the Central Australian ecosystem.
"It was great to have Charmaine Barrett in Alice Springs talking to businesses about the opportunities and potentials of advanced manufacturing for the region.  We look forward to working with her and the Central Australian ecosystem to continue to develop the regions' opportunities." Claire Dawson, Project Officer, NT Government Business Innovation.
During the November presentation, Charmaine talked about the opportunities in the Territory for the advanced manufacturing sector, how businesses can collaborate and commercialise. She also leads the joint five-year $8.75 million NT AMGC program to fast-track investment and commercialisation of advanced manufacturing opportunities across the Territory.
The NT AMGC program delivers on the recommendations of the Territory Economic Reconstruction's final report, which will see:
AMGC establish an office in Darwin, which will house the dedicated Territory-based director who will be supported by AMGC's existing national team
AMGC manage a competitive dollar-for-dollar, co-funded grant program for NT industry stakeholders
the creation of advanced manufacturing projects, which will generate more jobs for Territorians and bolster the local economy with new investment opportunities.
For more on the Advance Manufacturing Growth Centre's Advanced Manufacturing Ecosystem Fund plus stay informed for future event and opportunities by joining the Business Innovation advanced manufacturing ecosystem.