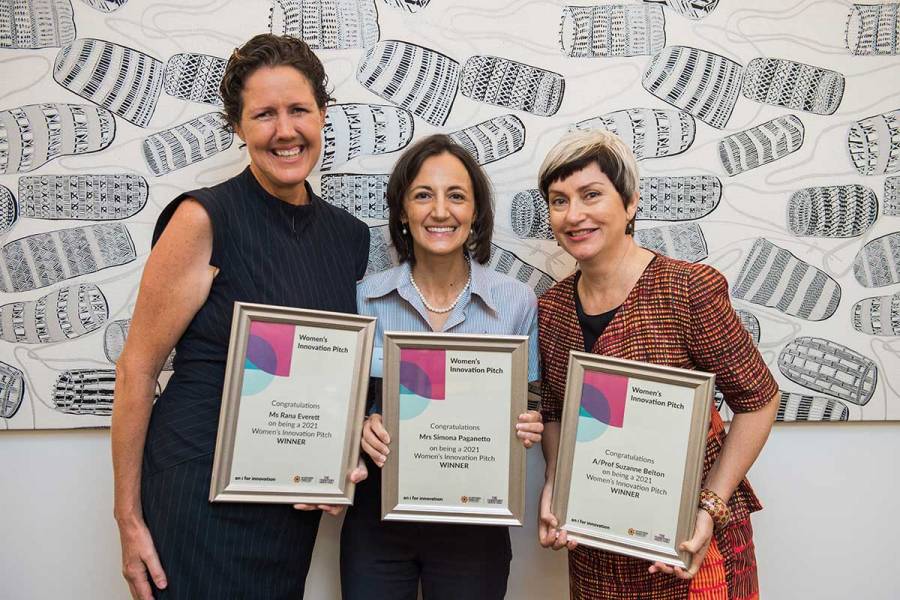 The Honourable Lauren Moss MLA, Minister for Women, has announced the winners of the first Women's Innovation Pitch event, which took place on 9 April in Darwin and Alice Springs. Six finalists pitched their innovative ideas to a panel of expert judges live in front of an in-person and virtual audience.
Judges were impressed by the diverse opportunities presented for the Territory and the collaborative approach embodied in all six finalist pitches.
The three winners will each receive a placement in the Business Innovation Program, which provides a $30,000 grant including a special exemption for co-contribution commitments to help develop and commercialise their innovative business concept. They also receive one-on-one professional advisory services from the Northern Territory Government's Innovator in Residence service.
The winners of the 2021 Women's Innovation Pitch event are:
Simona Paganetto from I'm Plastic Free with the next phase of I'm Plastic Free, an online marketplace that connects eco-conscious consumers with ethical and sustainable products from Australian businesses.
Rana Everett from Everett Consulting NT with a concept to manufacture critical Roll Over Protective Systems in the Territory for the mining and construction industries.
Associate Professor Suzanne Belton from Anatomical Education with 'Anatomical Models Get Cliterate!' a concept to increase health literacy and sex positive communications through anatomical models and training.
The Women's Innovation Pitch is a Northern Territory Government initiative designed to encourage more women-led businesses develop and commercialise innovation in the Territory and strengthen representation of women in STEM (science, technology, engineering and maths) industries.
The 2021 event featured innovative ideas from across the Territory presenting game-changing products and services. The competition drew more than 25 entries from Alice Springs, Katherine and Darwin.
The judges and the Territory congratulate all applicants for backing themselves and their ideas.
To stay connected about future opportunities and the Territory's own Women in Innovation Network join the mailing list.
Article last updated on 12 October 2021